Red Infrared Light Therapy
Red Infrared Light Therapy
Rainbow

Shenzhen

1 day for sample,7 days for small order

5000pcs Per Day
"Feature:

1, Five working mode(Intelligent timer):
1) Red light and NIR light ,anti-aging,635nm(5 mins);
2) Blue light,kill bacteria,470nm(5 mins);
3) Red light and NIR light ,anti-aging,635nm(10 mins);
4) Blue light,kill bacteria,470nm(10 mins);
5) Red+NIR light(10 mins)——Blue light(10mins)
2,Easy to operate,use remote control.
3, Design in 1:1 proportion, match the face, and wear comfortably
4, Silicone eye part design, use freely
5, USB charging, wireless more comfortable. 120 lamp beads"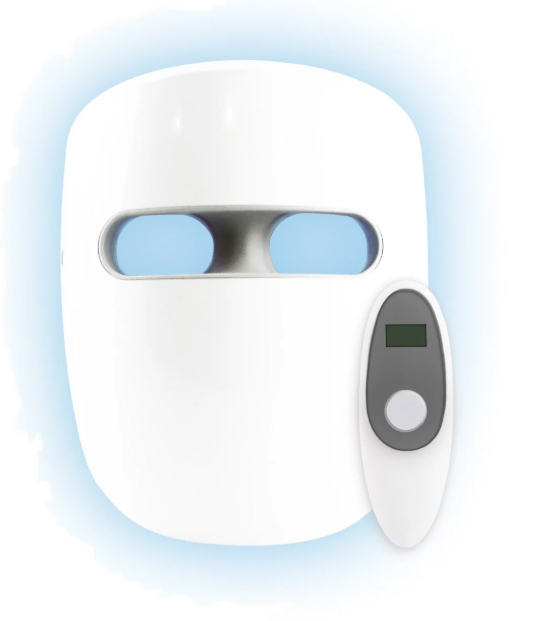 About the product:
· 3 Colors LED mask can solve stubborn skin problems, like heal acne and repair the acne scar.
· Collagen Boosting and Skin Tightening, Reduce and prevent wrinkles, helps fight fatty areas.
· The remote lets you adjust the intensity and the time.
· Use for about 20 minutes each day and can lessen your fine lines and wrinkle around your forehead and eyes in just 4-6 weeks.
· The Photon Beauty Device, designed for facial beautification, uses natural light waves, which are transmitted by LEDs into the skin.
The light activates photoreceptors in skin cells, producing energy for absorption by skin components, to beautify your complexion.
· Waterproof design can use with your water mask and cream together
Specification:
the number of led lights:120pcs
grey rubber eyepatch can protect the sensitive eyes
No hand-held
wireless, Hand-free
Suitable for people:
with an irregular diet, staying up late, sit in front of the computer, and use cellphone frequently
for skin:spots,freckles,acne,dull ,dark yellow,large pores,coarse,sagging skin
How to use:
1.clean your face, wait till it dries. This makes it easier for light to penetrate your skin.
2.Put on your Mask.
3.Turn on your Mask and use the remote control to chose the working mode
4.Keep your LED Mask close to your facial skin.also can use the water mask or cream together
You can also change different colors with the remoter.
3 Colors LED mask can solve stubborn skin problems:
Red light(630nm): whitening pale spot, tender skin and anti-wrinkle, repair damaged skin, smooth the fine wrinkles, shrink pores, hyperplasia of collagen.
Blue light(470nm): efficiently minimize and heal acne, repair the skin without leaving scars
NIR light(900nm): Present in numerous studies inherent to photo modulation, the infrared goes deep into the dermis at the edge of the epidermis to activate cells.
In addition to red, infrared is particularly effective for anti-aging treatments and in cases of hair loss.
Features:
1.Wireless, with remote control
2.120pcs Osram LEDs
3.Patent design
4.3 in 1 Facial Rejuvenation System
5. Adjustable Fixed Band
6.Passed Medical Clinical test
| | |
| --- | --- |
| LED | 120pcs LEDs |
| Charging Time | 2 hours approx |
| Lasting Time | 2 hours approx |
| LED light | RED light, Blue light, NIR light |
| Battery Type | Li-ion chargeable battery, 1000mAh, pass KC Certification |
| Remote control | LCD display for remote control |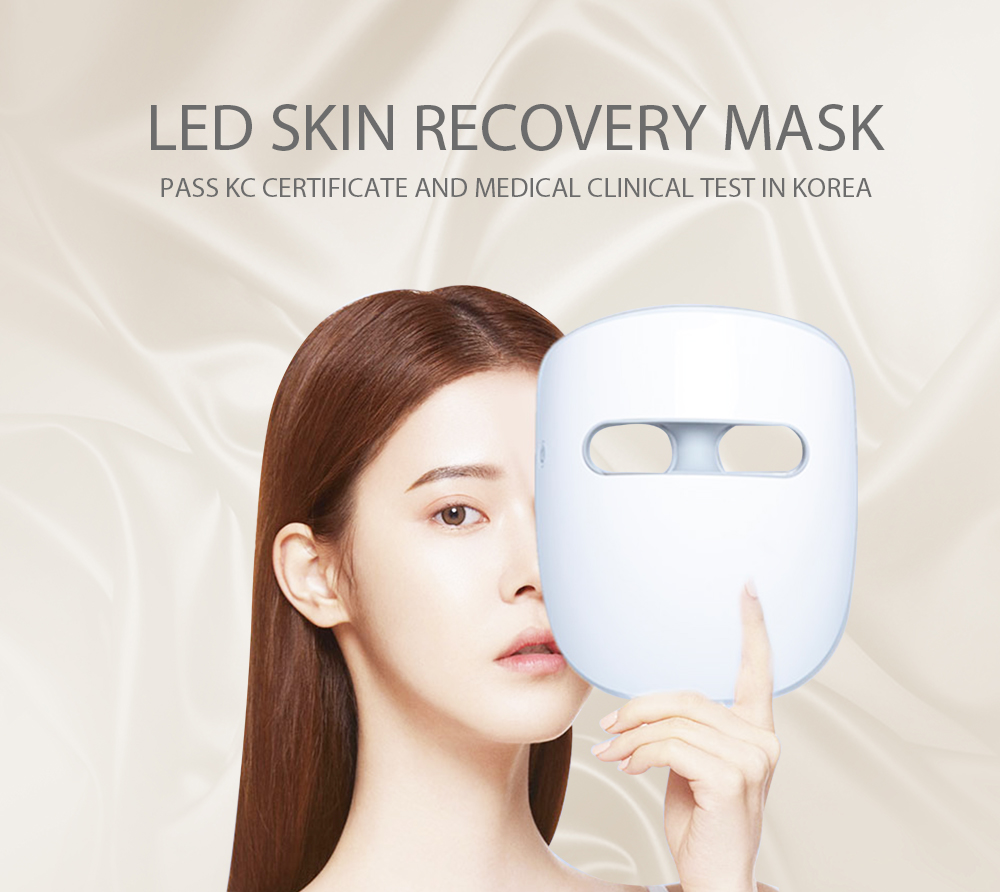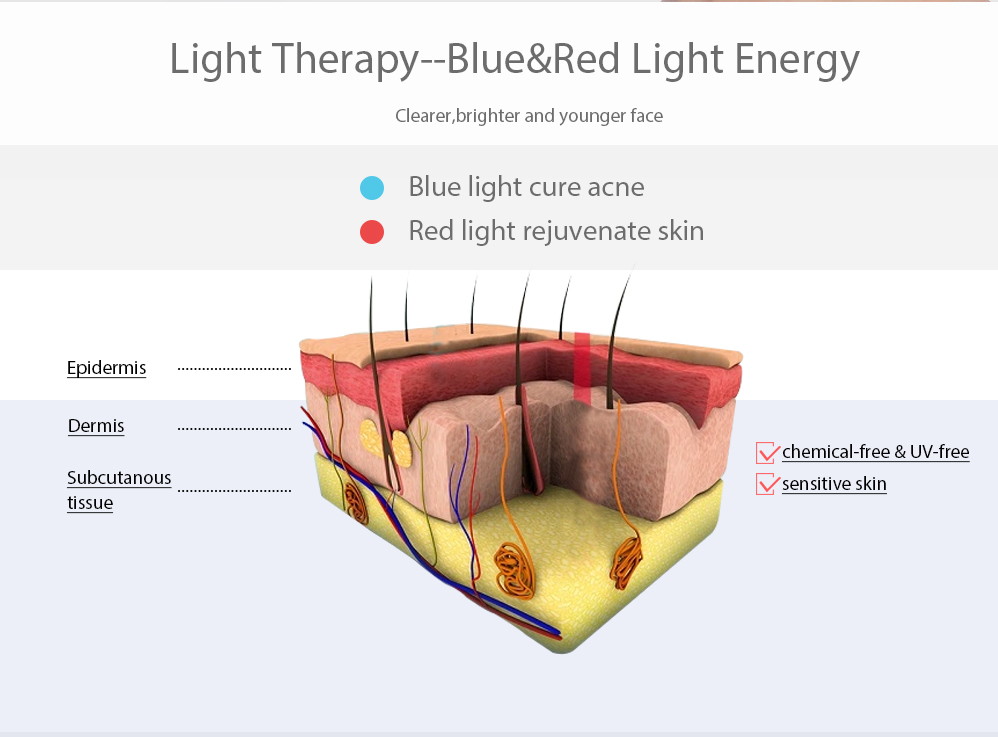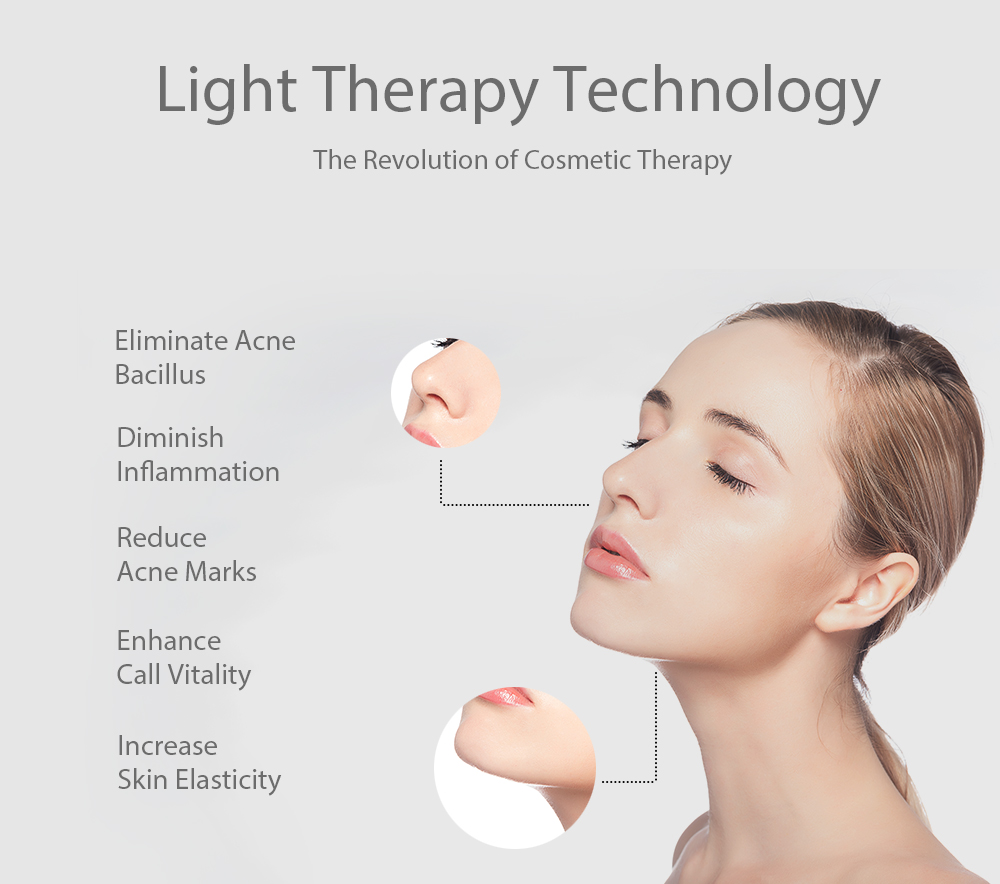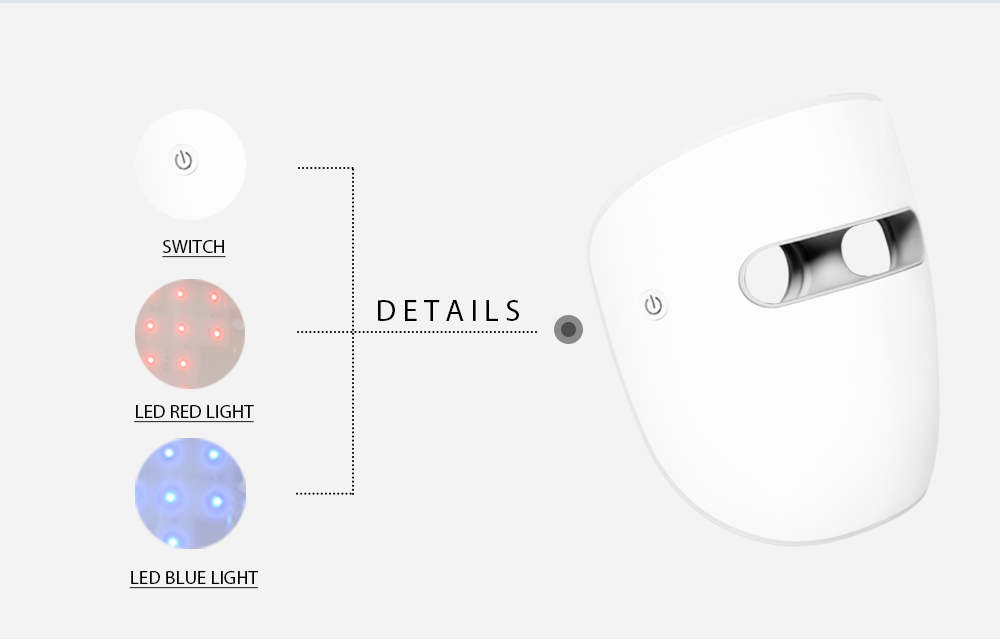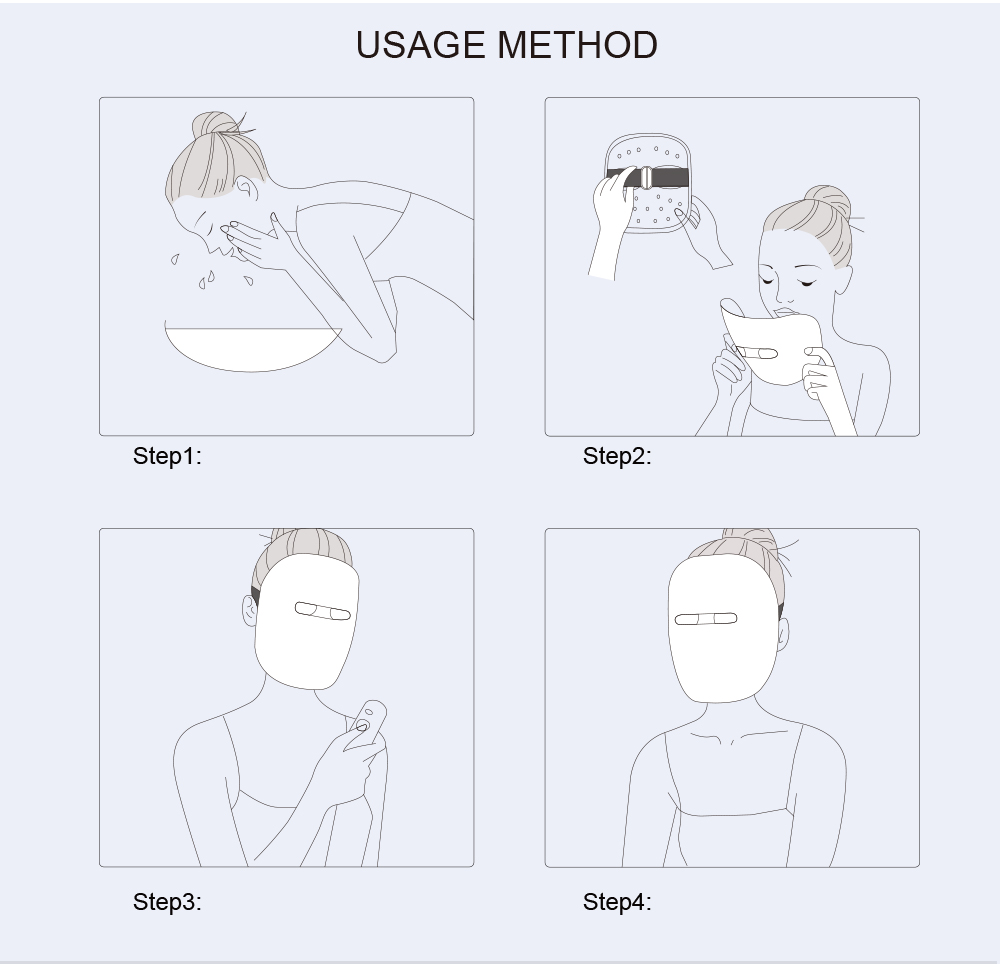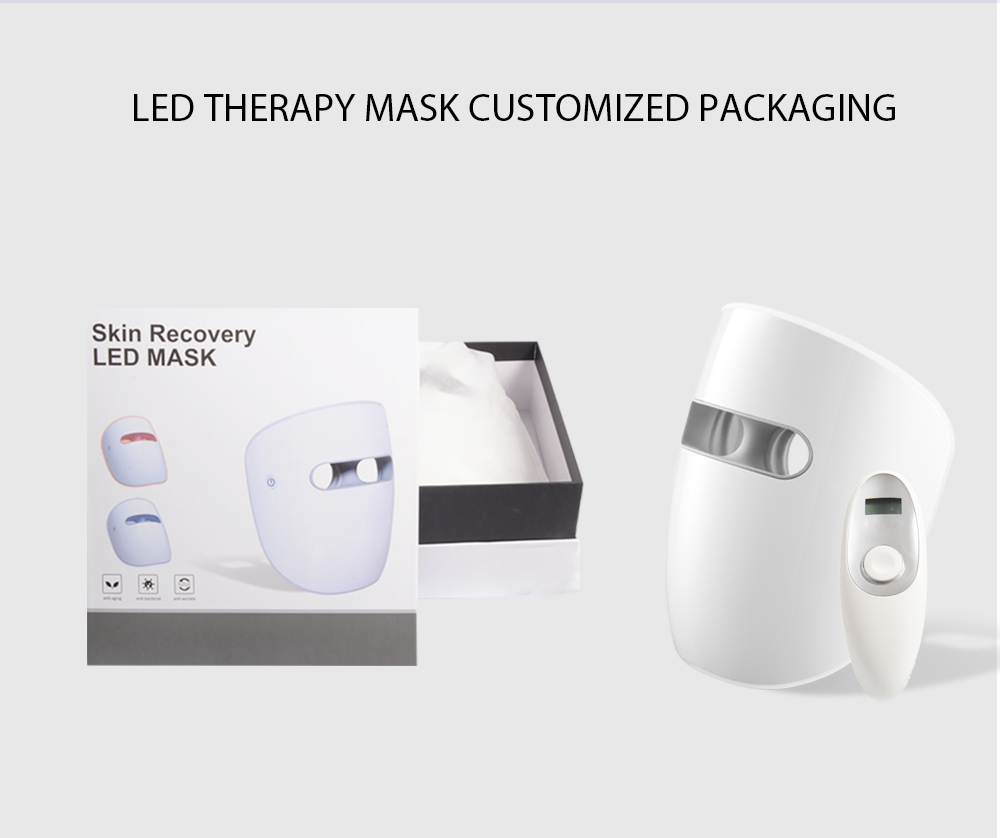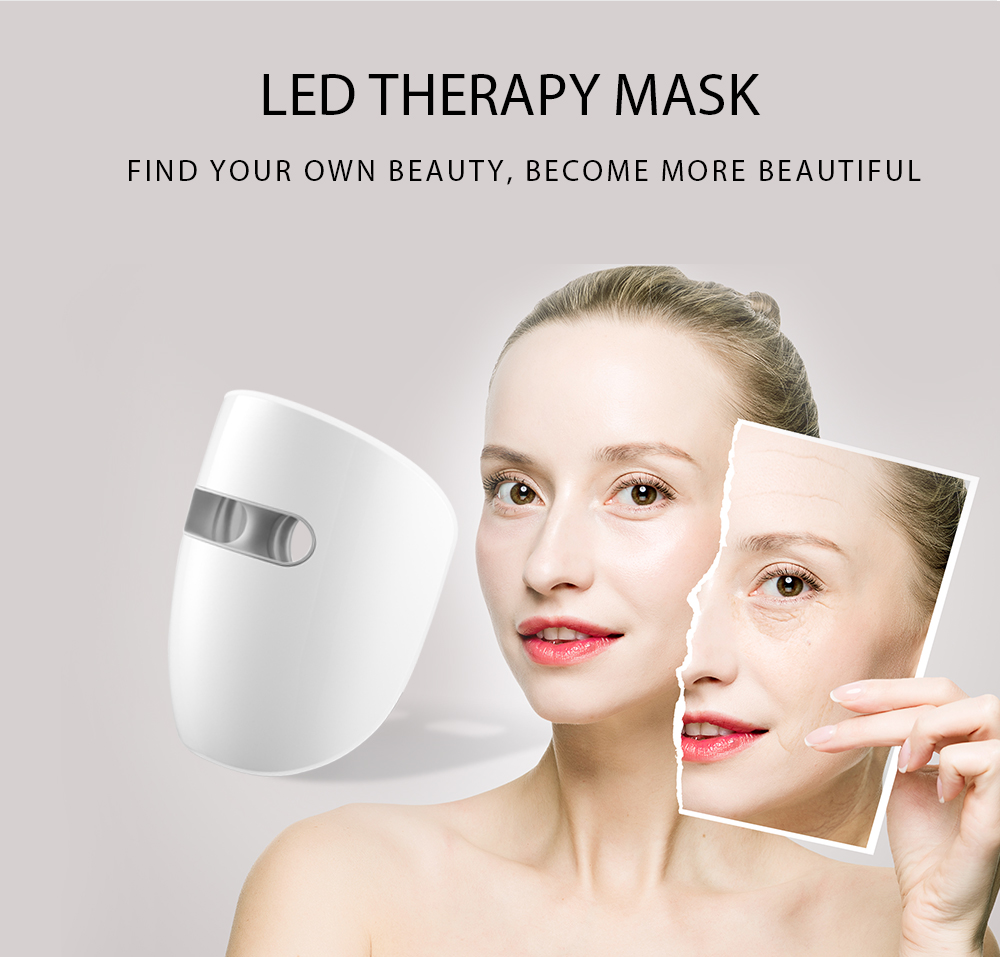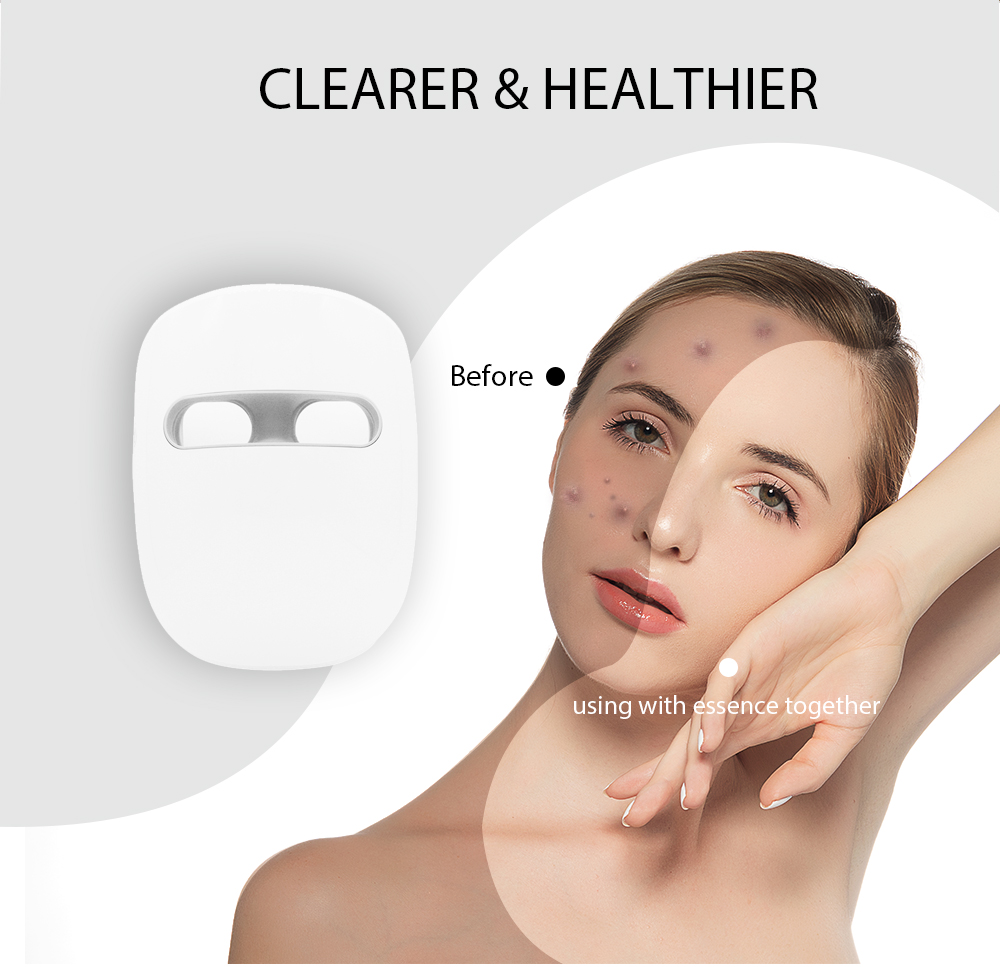 "